Recently, I reached peak doom-scroll levels on Twitter. My Earl Grey tea went cold by the time I trekked through the epic thread foretelling a dystopian future for novel writers like us. It claimed we'll be rendered obsolete by Artificial Intelligence; the only viable career option in five years' time is "prompt generators" for our machine learning overlords.
AI software causes fear among the tech-wary who believe the pen is mightier than the code. Will it mean the extinction of human authorship? In 2020, a robot wrote a piece for The Guardian newspaper. Language-generator GTP-3 attempted to convince readers it wasn't a threat to humanity.
 The stuff of a sci-fi novelist's nightmares.  
Or is it…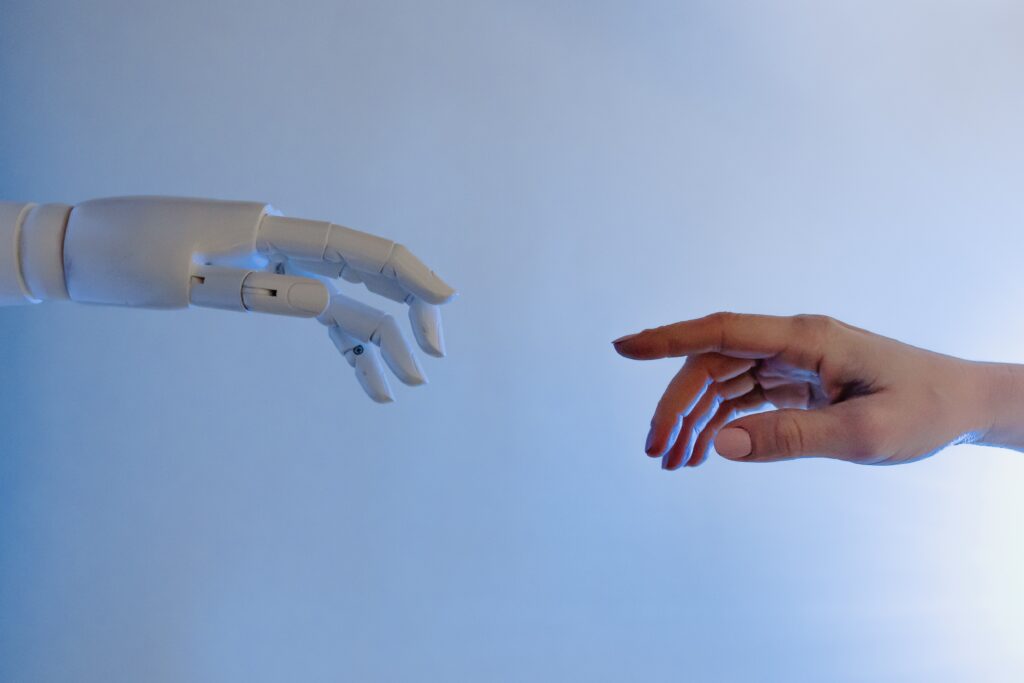 I believe we should view writing software as an assistant, rather than an assassin. Using Grammarly to sweep my novel for stray punctuation was like having a 24/7 copyeditor mentoring me during every chapter.
Many fears for the future stem from computer-generated writing's excellence at mimicry. Gone are the days when AI and human text were as different as a Picasso from a painting-by-numbers. But here's the thing. Computers lack the emotions, childhood memories, and spontaneous coffee shop encounters which make authors distinct. That's tough to impersonate. Apologies to novelists on a deadline who are drowning in espresso-fuelled all-nighters and wish a machine could step in!
AI writing tools acknowledge an element of human word-smithing is needed, and it's a writer's responsibility to inject authenticity amid the algorithms. Software can generate a bunch of grammatically correct sentences, but you still need the personal touch to review, select, and draft. The tools are there to combat blank page anxiety, or brainstorm ideas. Don't forget that even in the age of AI, novels still possess what acclaimed storyteller Neil Gaiman calls "a uniquely portable magic". You add the sparkles.
It's two years since that machine-penned Guardian article and, so far, AI novelists haven't invaded the book charts. The top ten fiction bestsellers of 2022 were crafted by human hands. Advances in AI have not heralded the death of the author, because tech growth and writers' survival are not mutually exclusive. While innovations multiply, so do publishing profits: this August, the Nielsen industry tracker revealed record-breaking book sales, with £1 billion spent on hardbacks and paperbacks.
Authors have always successfully adapted, survived (and even thrived) in the face of technological changes, from the printing press to the internet.
Fear of computers replacing writers is a fiction that belongs only in novels. Authors and apps sit side by side in the struggling novelist's garret – AI tools are a muse peering over your shoulder and cheering you on.
The pen is mightier with the code.
Tools I use for this site
I buy all my domain names on  Namecheap, as thetrendycoder.com
The hosting of this website is made on Bluehost.
The website is created with WordPress.org (and not WordPress.com).
I use the page builder Elementor because it makes it easy to create modern pages with drag and drop.
I have multiple websites, and on most of them, I use themes from wpKoi. I love their design, they are very original and work well with Elementor.
All the designs and images are created using canvas.
I use Grammarly and languagetool to correct all my spelling and grammar mistakes.
SEO is a big thing on a website, I use a WordPress plugin called YoastSEO to help me with the basic analysis. I also use a tool called Keysearch for choosing the right keywords.
To handle affiliate links, I use two platforms: impact and ShareASale.
You want to write on TheTrendyCoder ?
If you are interested in publishing guest articles on this website, sharing your experience or coding tutorials, apply through this form.
NO EXPERIENCE needed!
NO PERFECT English needed!
NO DEGREE needed!
NO AGE limits!

No matter at what stage we are in our tech journey, we all have learned things and experienced things. Sharing them can help others and even help us. So, if you are a student, a professional, or a self-taught coder, feel at home and share some of your knowledge with the community.