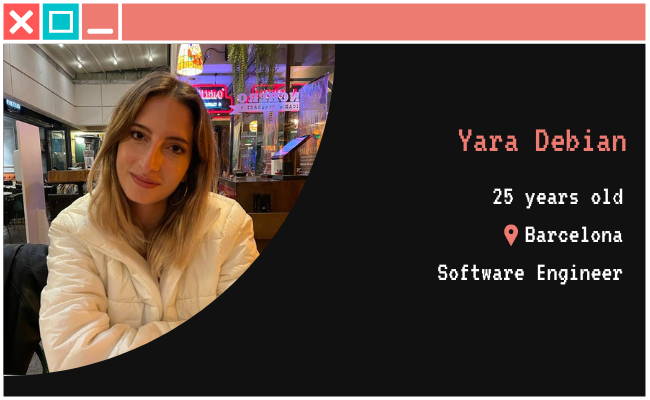 Welcome to this new women in tech interview featuring Yara Debian. Yara is a young Lebanese woman working as a software engineer in Barcelona. Yara is a fighter, her story gave me goosebumps because I can relate. My parents are from Algeria, and all my family lives there, so I know the conditions for women in these countries. When a woman wants to be independent and strong, she's never taken seriously. But Yara did it, and she wants to tell the world that IT CAN BE DONE!!
Could you start with a small presentation, so we can get to know you better?
Hello! I'm Yara Debian, a 25 years old woman from Lebanon. I recently moved to Barcelona for a fresh start in tech and life. I'm a software engineer at Factorial. If I'm not coding I enjoy walking around the city while listening to podcasts or cooking comfort meals and eating them while watching tv shows.
What motivated you to work in a tech field?
I was always fascinated by science and how far can it get for humanity's development. In my country science fields are not an investing target and any science major will lead to teaching which is not in my interest. Programming and becoming a software developer was satisfying this interest all with the safety and good pay it provides.
How did you learn your technical skills? (self-taught, college, bootcamp...)
I majored in computer and communication engineering and decided to focus my senior year on software elective courses so I can land a job.
How is it to find a job in tech?
It's really relative to your needs. Finding remote jobs has become the easiest way to go although sometimes the requirements seem to be unrealistic when it comes to years of experience and stack.
Have you experienced imposter syndrome? If yes, could you tell us a little about it?
I suffer from imposter syndrome when I'm facing a new challenge, and this happened to me more often than I was expecting the past 2 years. From starting a job right before the Beirut explosion and quitting it to starting a new one and then leaving my birth country to start a new life.
How do you feel about being a minority in tech as a female? Have you had any uncomfortable situations to share? Or a funny situation?
Not being taken seriously is the main uncomfortable situation I was put in. My goal of leaving the country and living abroad was too ambitious for a girl in the middle east. Adding to that, having people surprised when I tell them I'm a programmer is a big prejudice as if appearances define interests.
What do you like about your job?
The opportunities my job offers are limitless. Starting with working conditions where I get to work remotely and with a flexible schedule. Also, the community and culture I'm surrounded by help me to bloom and give my best potential.
Are you happy with your career choice?
Of course. It changed my life.
How do you expect to grow in the future?
I want to be a reference when it comes to Lebanese girls seeking advice for a career in tech. I want to show them that it's possible. Yes, a girl from the middle east in 2022 can be independent and strong by herself. No excuses.
What would you say to a girl/woman who wants to start a career in tech?
"The opportunities are limitless. Choose what suits you best and set your mind to it. It could positively change your life!"
Would you like to share anything else?
After moving to Barcelona and telling my story to people I met at a language exchange gathering I became to the realization that what I've been through needs to be shared with the world and inspire other women.
If you also want to share your experience as a female student or professional in tech, don't hesitate to fill in the form linked below. It is a great chance to be featured in our next interviews posts and inspire other girls and women to join us.
Tools I use for this site
I buy all my domain names on  Namecheap, as thetrendycoder.com
The hosting of this website is made on Bluehost.
The website is created with WordPress.org (and not WordPress.com).
I use the page builder Elementor because it makes it easy to create modern pages with drag and drop.
I have multiple websites, and on most of them, I use themes from wpKoi. I love their design, they are very original and work well with Elementor.
All the designs and images are created using canvas.
I use Grammarly and languagetool to correct all my spelling and grammar mistakes.
SEO is a big thing on a website, I use a WordPress plugin called YoastSEO to help me with the basic analysis. I also use a tool called Keysearch for choosing the right keywords.
To handle affiliate links, I use two platforms: impact and ShareASale.
You want to write on TheTrendyCoder ?
If you are interested in publishing guest articles on this website, sharing your experience or coding tutorials, apply through this form.
NO EXPERIENCE needed!
NO PERFECT English needed!
NO DEGREE needed!
NO AGE limits!

No matter at what stage we are in our tech journey, we all have learned things and experienced things. Sharing them can help others and even help us. So, if you are a student, a professional, or a self-taught coder, feel at home and share some of your knowledge with the community.