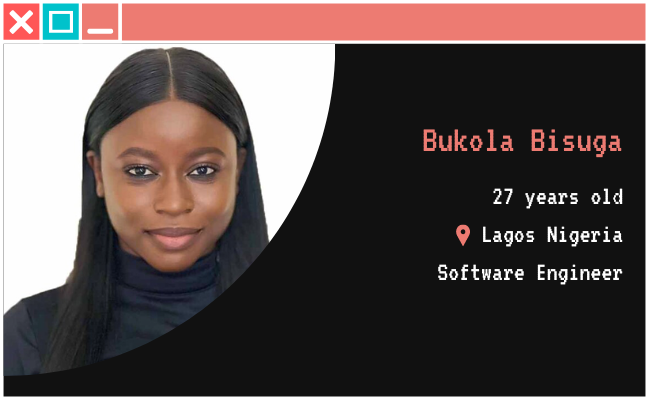 I'm happy to publish a new interview in this special series, women in tech. Let me introduce to you Bukola Bisuga, a 27 years old Software engineer from Lagos, Nigeria. Another amazing woman, self-taught and very involved in the community. I can't believe how many women out there are just rocking it in the tech industry. I'm impressed by all these badass women. I am very proud to be part of this community.
Enjoy the interview.
Could you start with a small presentation, so we can get to know you better?
I'm Bukola Bisuga. I'm 27 and I'm from Lagos, Nigeria. Currently, I work as a Software Engineer at Microsoft on Microsoft Mixed Reality team.
I enjoy taking long walks, watching a good movie/show, and spending time with loved ones.
I have a passion for organizing and teaching, so I joined She Code Africa as a Technical Coordinator. I love that I have the opportunity to giveback and help other women get started in their tech careers.
What motivated you to work in a tech field?
I was motivated by all the tech innovation that was happening in the world. Mobile apps, robotics and other new technology quickly became an integral part of our lives and society. I wanted to be a part of that and contribute in my own way.
How did you learn your technical skills? (self-taught, college, bootcamp...)
I have a BSc degree in Geophysics from the University of Lagos, Nigeria. I started teaching myself how to code in June of 2017. When I knew I had developed an interest in tech, I decided to pursue online & onsite courses to help me improve my learning.
How is it to find a job in tech?
It can be quite challenging. I had no friends/network in tech when I started out. Community and networking are very important in tech, so I joined twitter and She Code Africa to grow my network and increase my access to opportunities.
Have you experienced imposter syndrome? If yes, could you tell us a little about it?
Many times in my career (especially early on) I have felt under-equipped. Mostly because I believed I lacked the foundational knowledge of computer science. Even recently, when I struggle to learn/understand concepts and fundamentals, I feel like – maybe I don't belong here. But I'm beginning to understand that the feeling means I'm breaking a barrier and achieving things outside my comfort zone. I'm learning to embrace it and use it to my advantage. That way, I can learn more and do better.
How do you feel about being a minority in tech as a female? Have you had any uncomfortable situations to share? Or a funny situation?
I've have had a couple of scenarios, where I knew – "this wouldn't have happened to me if I were male". I won't go into details but I think the most important thing is to not dwell on but instead, learn from them. These kind of situations are why you MUST succeed as a woman in tech – to help other women and do your part to ensure they don't have to go through the same negative experiences.
What do you like about your job?
I enjoy learning and using that knowledge to solve new/existing problems.
Are you happy with your career choice?
Yes, I am. This is probably not the final destination in my career, but I know I'm on the right track.
How do you expect to grow in the future?
I see myself growing into business/product focused roles.
What would you say to a girl/woman who wants to start a career in tech?
Don't let anybody tell you that you can't – including yourself. Go for it! And even if you don't succeed at first, you'll have learnt more about yourself and your journey than if you hadn't tried at all.
If you want to follow Bukola here is her LinkedIn and Twitter:
If you also want to share your experience as a female student or professional in tech, don't hesitate to fill in the form linked below. It is a great chance to be featured in our next interviews posts and inspire other girls and women to join us.
Tools I use for this site
I buy all my domain names on  Namecheap, as thetrendycoder.com
The hosting of this website is made on Bluehost.
The website is created with WordPress.org (and not WordPress.com).
I use the page builder Elementor because it makes it easy to create modern pages with drag and drop.
I have multiple websites, and on most of them, I use themes from wpKoi. I love their design, they are very original and work well with Elementor.
All the designs and images are created using canvas.
I use Grammarly and languagetool to correct all my spelling and grammar mistakes.
SEO is a big thing on a website, I use a WordPress plugin called YoastSEO to help me with the basic analysis. I also use a tool called Keysearch for choosing the right keywords.
To handle affiliate links, I use two platforms: impact and ShareASale.
You want to write on TheTrendyCoder ?
If you are interested in publishing guest articles on this website, sharing your experience or coding tutorials, apply through this form.
NO EXPERIENCE needed!
NO PERFECT English needed!
NO DEGREE needed!
NO AGE limits!

No matter at what stage we are in our tech journey, we all have learned things and experienced things. Sharing them can help others and even help us. So, if you are a student, a professional, or a self-taught coder, feel at home and share some of your knowledge with the community.