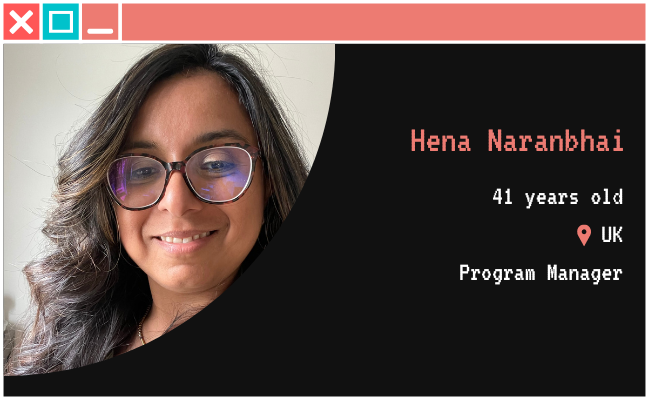 This new number of the women in tech series features Hena Naranbhai. Hena is a 41 years old Program Manager based in the UK. She is very passionate about opening STEM opportunities to young girls, and we can only encourage this goal.
Could you start with a small presentation, so we can get to know you better?
My Name is Hena Naranbhai, I'm 41 years old, born in the UK but of South Asian heritage. I'm am a Programme Manager for Barclays Bank working in Risk, Finance and Treasury Technology. I'm a qualified Accountant and moved in to projects after the birth of my first child 8 years ago before moving from Finance in to Technology 5 years ago.
My hobbies are cooking, organising kids activities and yoga.
What motivated you to work in a tech field?
I found myself in Technology after an organisation restructure now it excites me and the opportunities available.
How did you learn your technical skills? (self-taught, college, bootcamp...)
How is it to find a job in tech?
Currently the market is active, just from the organisation that I work for there are 100's of open roles.
Have you experienced imposter syndrome? If yes, could you tell us a little about it?
Yes, I was very ambitious when I was younger. Always told too ambitious, because of it I now doubt myself. I'm in the process of exploring an opportunity at the moment, and this opportunity came up 18 months ago. It's a role I know I can do. 18 months ago I didn't feel ready. Currently, I'm still doubting if I'll get through the process. Can I do the role? What if I'm not good enough?
How do you feel about being a minority in tech as a female? Have you had any uncomfortable situations to share? Or a funny situation?
Being a minority isn't the ideal position but an opportunity to encourage and support the next generation. I'm really passionate about opening STEM opportunities for my daughter and other little girls. I am looking at opportunities to give back through mentorship.
What do you like about your job?
Problem solving and no two days are the same.
Are you happy with your career choice?
How do you expect to grow in the future?
Cajigo have really opened up the possibilities of opportunity for me both internally in Barclays and externally. I need to think carefully about my medium term goals and then align to sponsor who will support me.
What would you say to a girl/woman who wants to start a career in tech?
It may feel scary, but find your supporters, create a group of women who will provide you with sound advice and will support you.
Would you like to share anything else?
The other challenge I've had is that I'm dyslexic which I didn't find out about until I was 20.
If you want to follow Hena here is her LinkedIn and Instagram :
If you also want to share your experience as a female student or professional in tech, don't hesitate to fill in the form linked below. It is a great chance to be featured in our next interviews posts and inspire other girls and women to join us.
Tools I use for this site
I buy all my domain names on  Namecheap, as thetrendycoder.com
The hosting of this website is made on Bluehost.
The website is created with WordPress.org (and not WordPress.com).
I use the page builder Elementor because it makes it easy to create modern pages with drag and drop.
I have multiple websites, and on most of them, I use themes from wpKoi. I love their design, they are very original and work well with Elementor.
All the designs and images are created using canvas.
I use Grammarly and languagetool to correct all my spelling and grammar mistakes.
SEO is a big thing on a website, I use a WordPress plugin called YoastSEO to help me with the basic analysis. I also use a tool called Keysearch for choosing the right keywords.
To handle affiliate links, I use two platforms: impact and ShareASale.
You want to write on TheTrendyCoder ?
If you are interested in publishing guest articles on this website, sharing your experience or coding tutorials, apply through this form.
NO EXPERIENCE needed!
NO PERFECT English needed!
NO DEGREE needed!
NO AGE limits!

No matter at what stage we are in our tech journey, we all have learned things and experienced things. Sharing them can help others and even help us. So, if you are a student, a professional, or a self-taught coder, feel at home and share some of your knowledge with the community.