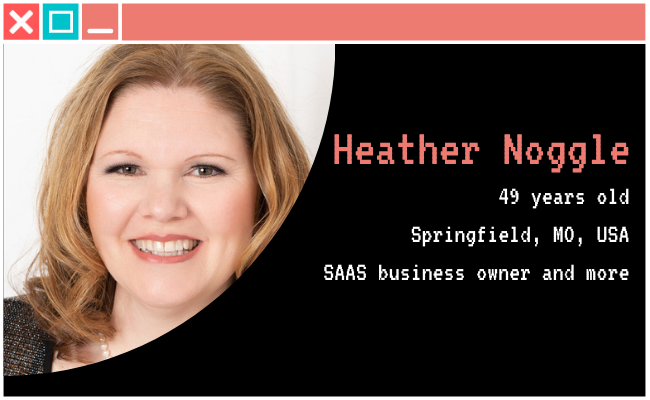 What a pleasure to feature Heather Noggle in this new interview series, women in tech. Heather is a 49 years old SAAS business owner (and more) from Springfield, MO, USA. To be honest, I know very few senior female programmers around me, so it is really hard to find a role model to look up to when you start working as a developer as a woman. Heather is that role model we can all have. She is so inspiring! In addition, her advice to women/girls who want to start a career in STEM is right to the point!
I can't wait for you to learn more about Heather's experience.
Could you start by a small presentation so we can get to know you better?
Heather Noggle, 49, Springfield, MO.
Role is ever fluctuating – I own a Software-as-a-Service business with a partner. We specialize in helping exporters with export compliance. I also recently started my consultancy to work in data integration, requirements gathering, and cybersecurity advocacy.
Hobbies – I have a husband and two children. We like to run family 5ks.
What motivated you to work in a STEM field?
Computer programming is the best problem-solving tool available, and I love to solve problems. I got my first computer – a Commodore 64 – in 1984, and I spent many hours writing practical programs that would help me with my homework.
How did you learn your technical skills?
I am almost entirely self-taught. I took a university course in C as a lark, but I was already an established programming.
How is it to find a job?
I wouldn't know! I have worked for the company I now own for 20 years. I started officially in technology as a full-time role in the late 90s, so there was the dotcom thing going on, and if you had skill, you had a job.
Have you experienced imposter syndrome? If yes, could you tell us a little about it?
Absolutely! I have many moments of "how do I know how to do this" as well as "who's going to listen to me?"
How do you feel about being a minority in STEM as a female? Have you had any uncomfortable situations to share? Or a funny situation?
I actually love it. Our SaaS business is woman-owned, so we're a good mix of men and women across the board. When I worked with a consultancy, I was the only woman among the development staff, and I never felt excluded. Recently I did experience an uncomfortable situation. I went to a lunch DevOps talk, and out of 30+ people, I was the ONLY WOMAN. That was wild.
What do you like about your job?
There's always an opportunity to learn. There's always an opportunity to share, connect, and give back.
Are you happy with your career choice?
Very.
How do you expect to grow in the future?
Cybersecurity is getting really big. I'm going to be working in an advocate role, which I see as helping everyday people understand how to lock the doors appropriately while also helping the C Suite build policies that help the IT staff do their part and change the company culture to focus on cybersecurity not as a big, scary risky thing we can do nothing about but instead just another form of compliance/housekeeping with everyone doing their part.
What would you say to a girl/woman who wants to start a career in STEM?
Yes, please! There is space for you to forge your way. Focus on being wholly, authentically you.
Would you like to share anything else?
Do what you want to do in life. I didn't go to school in STEM because I thought the math would be too hard, and I might be at risk to lose my scholarships. I have completed a sum total of ONE college math course. Didn't need it to code. Business logic is logic.
Follow Heather through her LinkedIn:
---
If you also want to share your experience as a female student or professional in tech, don't hesitate to fill in the form linked below. It is a great chance to be featured in our next interviews posts and inspire other girls and women to join us.