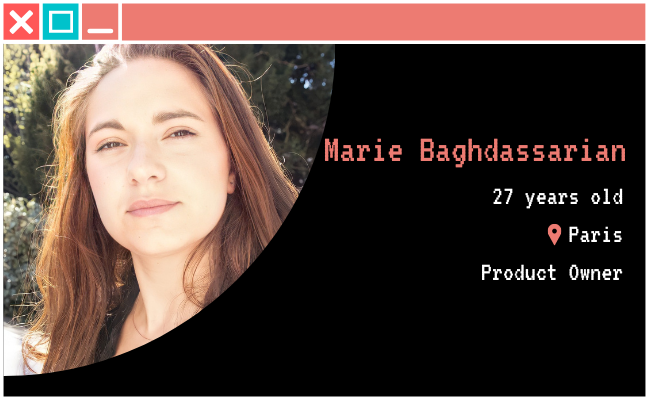 Our 10th woman to share her experience in the series of interviews Women in tech is Marie. She is a 27 years old Product Owner working in Paris. It is crazy because she graduated from the same school as me, and we are the same age, so we probably met a few times back then. However, I feel like it's been ages since my student's life, and I definitely can't recall her. I am happy to discover her experience because for a time I thought about choosing the same degree as she did. However, I ended up going for Computer Networks and Multimedia Communication instead of Health Information technologies.
Could you start by a small presentation so we can get to know you better?
My name is Marie, I'm 27 years old and I'm based in Paris. After graduating from Polytech' Grenoble with an engineering degree in health information technologies, I started my career as a project manager at Ennov, a software company specializing in life sciences, especially in the pharmaceutical industry. After three and a half years of project management, I wanted to move into a more technical field and get closer to development. I was promoted to Product Owner in the R&D department, still at Ennov in September this year.
What motivated you to work in a STEM field?
To be honest, in high school, I wasn't sure what career to chose and I was given a brochure for a chemistry school. It looked interesting so I decided to do a math prep course to get into that kind of school. I ended up in the computer science/medical field. I realize now that it is one of the most promising fields I know, thanks to the increasing digitalization of the world around us.
How did you learn your technical skills?
I did an advanced course of 2 years in biology/physics/earth sciences and math. Then I learned programming, medicine and project management at the engineering school. My first job allowed me to consolidate my skills in project management, consulting, design and data model. Now I focus on the specifications and the organization of the development of a product.
How is it to find a job?
I found my first job very easily, less than a month after graduation. I think that the network plays a big role in this sector. My manager, who hired me, is an alumnus of my school. I also get a lot of offers via LinkedIn.
Have you experienced imposter syndrome? If yes, could you tell us a little about it?
I've read a lot of articles on this topic before and I can't say I didn't recognize myself. When I was a child, "being an engineer" was surreal and really hard, I often wonder if I really am or if I just got lucky.
How do you feel about being a minority in STEM as a female? Have you had any uncomfortable situations to share? Or a funny situation?
Yes, completely. I work in an open space that is 80% male. One day, while we were all women in a room eating, someone (a guy obviously) opened the door and asked if it was the towel and tea towel meeting. No one knew what to say. Another day, when I had to go to Germany for a customer workshop with my manager, he asked me to be friendly and smile. And that was it. I often have the impression that we are less considered as women.
What do you like about your job?
I like to solve problems, mostly. I can spend hours on a mystery, I won't stop until I have the solution. I like to be autonomous and alone in front of my computer.
Are you happy with your career choice?
Sometimes yes, sometimes no… Sometimes I regret not to have taken a more "human" branch, in the life sciences. But sometimes I think I chose well when I see the growth of the technology industry.
How do you expect to grow in the future?
I hope to continue learning, working on innovative projects with interesting and competent people. Maybe I will become an expert in a field if I find one in particular that I really like.
What would you say to a girl/woman who wants to start a career in STEM?
Go for it !
---
---
If you also want to share your experience as a female student or professional in tech, don't hesitate to fill in the form linked below. It is a great chance to be featured in our next interviews posts and inspire other girls and women to join us.
Read other interviews