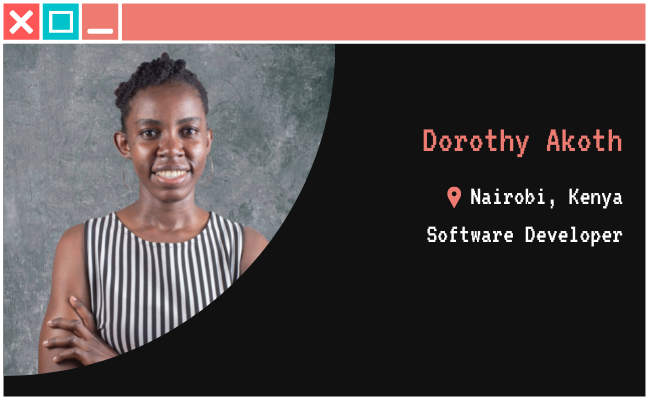 Let me start with one thing. I am beyond impressed by the women sharing their stories on this interview series "Women in tech". And the story of Dorothy Akoth represents all the things I want women to be. Never give up. Have the determination to succeed. Dream about changing your life. Be ambitious. Have resilience.
Dorothy lives in Kenya. She went from selling second hand clothes to being a software developer. I could tell you more about her, but I prefer to let you read her story with her own words.
Note: Dorothy enrolled to be a guest writer on the blog. I'm very happy and proud to be working with such an incredible woman.
Could you start with a small presentation, so we can get to know you better?
My name is Dorothy Akoth, Software Developer based in Nairobi, Kenya and a former graduate of Information Technology from AkiraChix, currently contributing to open source project as a Junior Back-end Developer at Ersilia Initiative Open Source.
What motivated you to work in a tech field?
I got motivated back in 2019 when I enrolled in a computer packages training at a nearby Cyber shop in my hometown Kisumu City from the money I got by selling second hand clothes after high school. After 3 months of computer training I was employed to train other students and I really find this interesting since I had time to interact with other students too. My dream was not only to work in a computer shop and selling second hand clothes but one day to be a software developer, meet other inspiring women in tech and work in a Tech Company.
How did you learn your technical skills? (self-taught, college, bootcamp...)
In 2020 during Covid , I started self learning on basic fundamentals of Html, CSS. Two months later I applied for LakeHub Academy training cohort5 but didn't qualify , I did not give up on applying for the next cohort. I was among the accepted applicants. The training was for 6 months hands-on basic training in Html, Css and JavaScript and for sure I gained a lot which prepared me for other training software development courses and participated in a Hackathon at LakeHub .
2021, I was lucky to be among the applicants who qualified for AkiraChix scholarship, AkiraChix is a one-year fully sponsored residential hands-on technical training program . From the AkiraChix program I gained a lot not only in coding in Python , Django JavaScript but also meeting some amazing women in Tech like Linda Kamau, Marie Githinji of AkiraChix, DorCas Owinoh of LakeHub, Joylyn Kirui of Microsoft Kenya, Siobhan O Baker Speaker for Coding Black Females, Confidence Staveley of Cyber Foundation and many more I also attended community event like GDG, Women TechMakers and speaking at event like the one I did with Coding Black Females.
How is it to find a job in tech?
It took me 3 months to land my first job as a software developer after sending my applications to over 20 companies and luckily I got my first job as a software intern after my graduation. I can say networking plays a big role in this sector.
Have you experienced imposter syndrome? If yes, could you tell us a little about it?
Yes, but I am avoiding it.
How do you feel about being a minority in tech as a female? Have you had any uncomfortable situations to share? Or a funny situation?
I find it hard because you have to prove yourself twice as much as men . But as an experienced software developer both women and men are equal because what he's capable of doing is what I'm capable of doing too.
What do you like about your job?
I love to debug codes and analyzing Back-end data, the challenges that I get when debugging and team work are what I like most about my job.
Are you happy with your career choice?
Yes!! I am very happy with my career choice.
How do you expect to grow in the future?
I hope to continue learning in my chosen career path of Back end Development through working on personal projects, contributing to open source projects, enrolling into online courses and working on innovative projects with competent people in the industry.
What would you say to a girl/woman who wants to start a career in tech?
Setting your goals right and putting more effort towards it.
If you want to follow Dorothy here is her LinkedIn, github and Twitter:
If you also want to share your experience as a female student or professional in tech, don't hesitate to fill in the form linked below. It is a great chance to be featured in our next interviews posts and inspire other girls and women to join us.
Tools I use for this site
I buy all my domain names on  Namecheap, as thetrendycoder.com
The hosting of this website is made on Bluehost.
The website is created with WordPress.org (and not WordPress.com).
I use the page builder Elementor because it makes it easy to create modern pages with drag and drop.
I have multiple websites, and on most of them, I use themes from wpKoi. I love their design, they are very original and work well with Elementor.
All the designs and images are created using canvas.
I use Grammarly and languagetool to correct all my spelling and grammar mistakes.
SEO is a big thing on a website, I use a WordPress plugin called YoastSEO to help me with the basic analysis. I also use a tool called Keysearch for choosing the right keywords.
To handle affiliate links, I use two platforms: impact and ShareASale.
You want to write on TheTrendyCoder ?
If you are interested in publishing guest articles on this website, sharing your experience or coding tutorials, apply through this form.
NO EXPERIENCE needed!
NO PERFECT English needed!
NO DEGREE needed!
NO AGE limits!

No matter at what stage we are in our tech journey, we all have learned things and experienced things. Sharing them can help others and even help us. So, if you are a student, a professional, or a self-taught coder, feel at home and share some of your knowledge with the community.