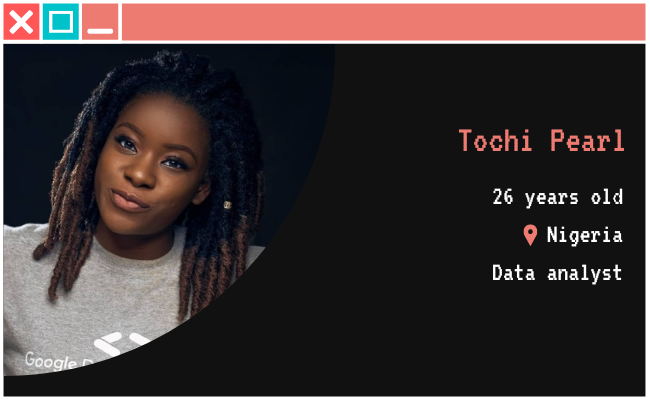 In this women in tech interview, we discover the story of the incredible Tochukwu Peace Egbuna Aka Tochi Pearl. She is a young Data Analyst. Yes Tochi, 26 is young even if you think it's not. Her testimony is very sincere and authentic. She tells us about her motivations, her doubts, her problems, and expectations to grow in the future. Our journey into tech is not always easy, but it is a journey worth to be taken anyway.
Could you start with a small presentation, so we can get to know you better?
Oh hi there, my name is Tochukwu Peace Egbuna but I prefer to be called Tochi Pearl (the unofficial name that I have.. lol). I recently turned 26( I'm an oldie right?), anyways, I'm 26 and I'm proudly an Anambra baby. I'm from Idemili South in Anambra and I'm the second child of 7(I don't really like the position because everybody is looking up to you for inspiration and I'm scared to not provide the right motivation).
I'm a data analyst, started out 2 years ago. Upon graduation, I was super confused on what to do with my life being that I wrote codes that ran only on paper in uni. The struggle was real, I was just about to go and learn a skill before I got an internship to be a data analyst (I didn't know jack, so the struggle was even worse because nobody comes to teach you anything and results were being expected from you, took on my first challenge to learn SQL as I was going to be interacting with databases a lot), yes, here we are!
When I'm not cleaning data, analyzing them or visualizing them, I love to read or be on my phone, Twitter especially for all of the gbas gbos that comes with it.
I'm a tech Jesus baby. I couldn't have come this far without His help.
What motivated you to work in a tech field?
My elder sister was a strong motivation for me, seeing her do all she did motivated me and coming from a computer science background from school and learning how to code on paper, she motivated me to actually learn. Oh and of course, the money motivated me too!
How did you learn your technical skills? (self-taught, college, bootcamp...)
Self-taught. Did a lot of personal learnings. Because I had to deliver, I had to learn.
How is it to find a job in tech?
I think it is difficult. I've applied and I'm still applying for better roles. Once I had an interview, i got to the second stage only to hear they didn't need the role anymore. Can be mentally disturbing. But we move regardless
Have you experienced imposter syndrome? If yes, could you tell us a little about it?
Yes. A lot too. When I started, I didn't know jack about data analysis. I got a paid internship which means I had to deliver. I felt I didn't fit in, i felt I didn't belong there. I almost did quit, there were other women in my company who already knew their onion which made matters worse, I wanted my voice to be heard, I wanted to contribute in meetings but I didn't know anything.
How do you feel about being a minority in tech as a female? Have you had any uncomfortable situations to share? Or a funny situation?
No not really. Where I started my internship gave room for diversity and encouraged women a lot.
What do you like about your job?
I think I like that I can give insights from data that I see. I just love that I can help with decision making.
Are you happy with your career choice?
Well, I'd almost want to say yes but I'm thinking I want to switch to software engineering. It feels like they're the only people being recognized.
How do you expect to grow in the future?
I expect to grow with communities, I think communities push you the most. Communities, friends, volunteering to mentor other ladies, taking on new challenges and of course, taking courses.
What would you say to a girl/woman who wants to start a career in tech?
Just start. I know the odds are almost not in your favour, but just start. You can look out for women communities and join to stay inspired. There would be burn outs too, but just keep at it and don't forget to take breaks where necessary.
If you want to follow Tochi here is her Twitter :
If you also want to share your experience as a female student or professional in tech, don't hesitate to fill in the form linked below. It is a great chance to be featured in our next interviews posts and inspire other girls and women to join us.
Tools I use for this site
I buy all my domain names on  Namecheap, as thetrendycoder.com
The hosting of this website is made on Bluehost.
The website is created with WordPress.org (and not WordPress.com).
I use the page builder Elementor because it makes it easy to create modern pages with drag and drop.
I have multiple websites, and on most of them, I use themes from wpKoi. I love their design, they are very original and work well with Elementor.
All the designs and images are created using canvas.
I use Grammarly and languagetool to correct all my spelling and grammar mistakes.
SEO is a big thing on a website, I use a WordPress plugin called YoastSEO to help me with the basic analysis. I also use a tool called Keysearch for choosing the right keywords.
To handle affiliate links, I use two platforms: impact and ShareASale.
You want to write on TheTrendyCoder ?
If you are interested in publishing guest articles on this website, sharing your experience or coding tutorials, apply through this form.
NO EXPERIENCE needed!
NO PERFECT English needed!
NO DEGREE needed!
NO AGE limits!

No matter at what stage we are in our tech journey, we all have learned things and experienced things. Sharing them can help others and even help us. So, if you are a student, a professional, or a self-taught coder, feel at home and share some of your knowledge with the community.