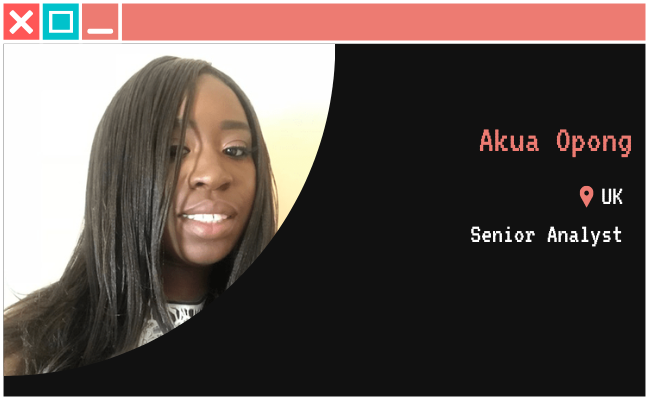 This number of Women in tech series features Akua Opong. Akua is a senior Analyst based in the UK. "She doesn't rest" is what people say about her, and I understand why. You will be impressed by the number of things she does for the community. Her pieces of advice are so wise, I will try to follow most of them. I'll let you discover this amazing interview.
Could you start with a small presentation, so we can get to know you better?
My name is Akua and I am based in London, UK. My family are from Ghana, West Africa. I studied at the University of Surrey with a degree in Computing and IT. I completed a work placement in Infrastructure Support for Rolls-Royce Motor Cars Ltd. I am a Chartered IT Professional through the British Computer Society, a STEM Ambassador, Board Advisor, DEI Lead and Mentor Health Advocate.
Outside my daily role as a Senior Analyst at LSEG, I am a fundraiser, a charity volunteer and a keen sports volunteer for Netball England and British Athletics.
What motivated you to work in a tech field?
Initially growing up I wanted to be a paediatrician and I then looked at working in the army in emergency response (but with an IT intelligence role). 
My first job outside of university was working for Carphone Warehouse, while others were selling products, I was troubleshooting laptop issues and mobile phone queries. I always like fixing things as a child whether at home or in my spare time. I am a problem solver, dreamer and explorer.
How did you learn your technical skills? (self-taught, college, bootcamp...)
Over the years, I believe in Continuous learning: learning a new skills even if it is 15-30 minutes a day learning a programming language.  Use a growth mindset to improve and this is essential in the tech industry. I learn through webinars, events, books, self-taught and online resources. I am Neurodiversive (self identifies as Dyslexic and has ADHD), so need variety as a visual learner and use the pomodoro technique with focused time.
How is it to find a job in tech?
It was quite tough, as I graduated during a recession and even after completing a placement year it did take a while. Perservance and commitment gave me the drive I needed to find my first IT role.
My first IT job was supporting the Dubai Royal family across their UK properties; I worked at Rathbones for nearly five years, then PA Consulting and fast forward to July 2019, I joined LSEG. At LSEG, I work in the Desktop Services Team within Corporate Technology; it is very fast-paced, which I love.
Have you experienced imposter syndrome? If yes, could you tell us a little about it?
Sometimes due to imposter syndrome, I didn't fully take advantage of the opportunities and connections as I was lacking confidence. In the last five years through charity work, volunteering, joining D&I networks, LinkedIn contacts plus self-discovery has helped me a lot. All these skills have taken me to a new level or to a new area of opportunity that I wished I had known when I first started out in my career. There are times in life where you hit a stumbling block but you need to keep going and just preserve. Always remember your why?
Be open to multiple possibilities, don't allow imposter syndrome or a lack of confidence to stop you. Be brave enough to go for it!
How do you feel about being a minority in tech as a female? Have you had any uncomfortable situations to share? Or a funny situation?
Life is a journey where you will have struggles and have to overcome different challenges. I want to break down those barriers and remove those stereotypes that you can and will succeed regardless of your gender or background. From a young age, I was constantly setting goals, whether career, personal or financial goals, in terms of what I wanted to achieve. Even when I would feel anxious or distracted by negative thoughts, I would have a self–talk and recognise that the sum of our life is often made up of a lot of small, meaningful, everyday moments—versus huge, momentous, next-level feelings of joy.
I know my capabilities and what I want to achieve; I will keep working to achieve that goal and show others what you can achieve, however big or small. I do not want to be labelled or stereotyped, but each role or opportunity is based on merit and due to hard work.
What do you like about your job?
Each day is different, I like to plan my day using the Pomodoro technique where I focus on the hard tasks first then work on the simple tasks, but sometimes use Time boxing (a project planning technique). It is fast paced but I want a great work/life balance.
Are you happy with your career choice?
Yes, as Technology evolves all the time. I can work in support now then in Project Management then move to CyberSecurity in the future. So many wonderful options where I can apply my skills.
How do you expect to grow in the future?
I want to be involved in project management next and then cyber security in the defence industry. I have a big focus on mental health, being a STEM ambassador, and on diversity and inclusion.
I am currently working on being a trustee for a women's charity or social enterprise linked to giving chldren a better education by 2024 and part of communities that will enhance my knowledge. I want to be a philanthropist/humanitarian where I use technology to drive sustainable development goals and social impact, and to raise awareness of neurodiversity.
This will enable young girls to achieve their goals in STEM through mentorship. I enjoy variety as you learn more about the wider world. Just remember your wellbeing and to use your words for kindness.
What would you say to a girl/woman who wants to start a career in tech?
Never lose yourself. Put your forward to be your advocate and cheerleader that shows self-belief.
"For me, becoming isn't about arriving somewhere or achieving a certain aim. I see it instead as forward motion, a means of evolving, a way to reach continuously toward a better self. The journey doesn't end," Michelle Obama wrote in her memoir Becoming.
I chose this quote as I attended the Becoming book tour at the O2 in London. Michelle Obama is a massive advocate for young girls to be given a chance to succeed regardless of their background. Each person should be given opportunities, in a world that is fair and equal. It is about uplift, empowering and not about competing with each other, but working for each other – for the young girl or woman's voice to be heard.
Would you like to share anything else?
If you speak to my family and friends, they would say, "She doesn't rest!" My key hobbies and interests are sports and charity volunteering through Crohn's, British Athletics, Netball England, and working as a STEM ambassador for school initiatives. It is all about community and giving back.
I love reading a mixture of development, thought-provoking books in my downtime, from Michelle Obama's Becoming to Untamed by Glenn Doyle, emotional intelligence and feminist books. I recommend She Speaks: The power of women's voices by Yvette Cooper.
I enjoy travelling, the spa, listening to music, the theatre and concerts. I am a massive Boyz II Men, Toni Braxton, Destiny's Child and Bruno Mars fan.
A personal career highlight is being featured in the Tech London Advocates book – The Voices in the shadows (Volume 1). These highlights black women in Technology and helps give young girls/women the encouragement of what they can become in the future.
If you want to follow Akua here is her LinkedIn and Linktree :
If you also want to share your experience as a female student or professional in tech, don't hesitate to fill in the form linked below. It is a great chance to be featured in our next interviews posts and inspire other girls and women to join us.
Tools I use for this site
I buy all my domain names on  Namecheap, as thetrendycoder.com
The hosting of this website is made on Bluehost.
The website is created with WordPress.org (and not WordPress.com).
I use the page builder Elementor because it makes it easy to create modern pages with drag and drop.
I have multiple websites, and on most of them, I use themes from wpKoi. I love their design, they are very original and work well with Elementor.
All the designs and images are created using canvas.
I use Grammarly and languagetool to correct all my spelling and grammar mistakes.
SEO is a big thing on a website, I use a WordPress plugin called YoastSEO to help me with the basic analysis. I also use a tool called Keysearch for choosing the right keywords.
To handle affiliate links, I use two platforms: impact and ShareASale.
You want to write on TheTrendyCoder ?
If you are interested in publishing guest articles on this website, sharing your experience or coding tutorials, apply through this form.
NO EXPERIENCE needed!
NO PERFECT English needed!
NO DEGREE needed!
NO AGE limits!

No matter at what stage we are in our tech journey, we all have learned things and experienced things. Sharing them can help others and even help us. So, if you are a student, a professional, or a self-taught coder, feel at home and share some of your knowledge with the community.