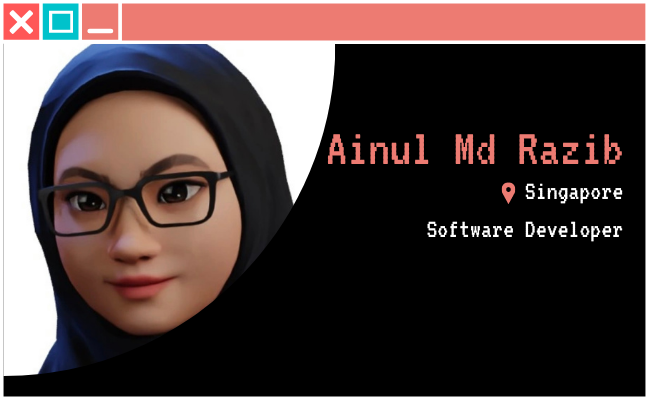 A few months after starting the series of interviews Women Experience in tech, we are featuring our 11th tech queen. This number is dedicated to Ainul. She is a Software Developer from Singapore. But that's not all. Ainul is also a content creator on social media. She publishes great videos with amazing tech-related content. You know what you have to do now after reading this article. Her socials are linked at the end of her interview.
I'm very happy with all the profiles we had discovered through these interviews. And I can't wait to continue sharing the experience of more women in tech around the world. Once again, I want to remind you that every experience matters. From the student to the senior developer, the self-thought to the Ph.D. expert. So if you want to be a part of this experience don't forget to check the form below the article.
Could you start by a small presentation so we can get to know you better?
I am a Software Developer in ThoughtWorks, as well as coding & tech content creator @ainlovescode! I was born, studied, and work in Singapore. My ultimate goal is to set up a scholarship fund for future women and girls in tech, as well as be known all over the world for creating code and tech content.
What motivated you to work in a tech field?
I became interested in coding after trying to build a webpage and realized that becoming a Software Developer not only allows me to build the future with code, but also get paid well.
How did you learn your technical skills?
I studied Information Systems at university.
How is it to find a job?
I was already networking, building a tech portfolio, and polishing my resume from my second year in university. It was a bit easier for me to find a job and get interviews by leveraging my career network for referrals and advice. I was able to get a job offer in 2019, two semesters before I graduated.
Have you experienced imposter syndrome? If yes, could you tell us a little about it?
Yes, I definitely experience impostor syndrome as a content creator and software developer. I always feel like I get left behind and that I started too late. What had helped me always get back on track and focus is by asking for feedback and advice from other people, and doing a lot of self-reflection to see where I can improve.
How do you feel about being a minority in tech as a female? Have you had any uncomfortable situations to share? Or a funny situation?
Someone told me that his male friends complained they were not able to get jobs due to "women in tech" being favored over men. In reality, women still make a minority of tech leadership positions and lack positive representation in mainstream media. We still have a long way to go to achieve gender equality in tech, but it is never at the expense of the traditionally privileged.
What do you like about your job?
I feel empowered that I am contributing to the growth of our digital future by writing code.
Are you happy with your career choice?
I am happy with my career choice and especially excited about the many pathways I can further my career in.
How do you expect to grow in the future?
I aim to become a full-stack software developer, hopefully with a few published apps that promote community service, better access to coding education, and diversity in tech.
What would you say to a girl/woman who wants to start a career in tech?
Don't overthink a detailed tech career plan – get started now because you can always figure it out as you progress and meet new mentors and friends in tech.
Follow Ain through her social medias
---
If you also want to share your experience as a female student or professional in tech, don't hesitate to fill in the form linked below. It is a great chance to be featured in our next interviews posts and inspire other girls and women to join us.
Read other interviews