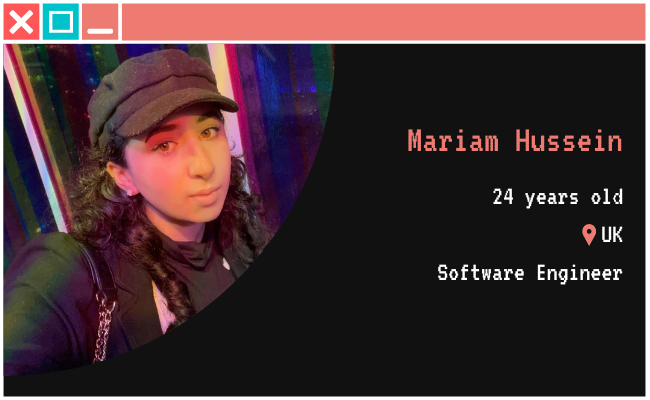 This week's women in tech interview feature Mariam Hussein. Mariam is a 24 years old Software engineer from the UK. She didn't really plan on working in tech in the beginning, but she ended up getting interested in it to find a stable job in the UK. She went from learning to code static websites by herself, to finishing an official course with Code First Girls and landing her first job.
Her visions on :
imposter syndrome
the place of women, and women of color in tech
the personal human growth
are very wise and deep. I learned a lot from this interview.
Also, Mariam wants to create a platformer for women who want to pivot into tech. If you could help her in any way, don't hesitate to contact her.
Could you start with a small presentation, so we can get to know you better?
Hi! I'm Mariam. I'm currently 24 and from the UK. I currently work as a Software Engineer at Slalom_build in Manchester after pivoting from my Higher Education Internship in 2022.
My current hobbies are gaming on Valorant and content creation.
What motivated you to work in a tech field?
I wanted to study a PhD but found little to no opportunities to study my chosen field (Industrial Relations between the UK and Japan). While I was studying Labour Markets, there was a huge focus on the digitisation of the workforce and the creation of 3 million new jobs in the UK by 2025 for digital-based roles and industries. I thought to be ahead of the labour curve and to skill myself up in time for this change. I focused on Software Engineering because of the variety of technologies and languages I could learn. It seemed like the best choice because of the constant need for learning and development, which are areas I love. However, when I started to learn to code and apply it to websites and designs, I found that I really enjoyed the problem-solving and creative aspects of coding and software development.
How did you learn your technical skills? (self-taught, college, bootcamp...)
I initially was self-taught through FreeCodeCamp and went on to do YouTube tutorials and build a GitHub portfolio. In January 2022, I took my first official coding class with Code First Girls in web development and went on to take their 3-month full-stack bootcamp. I'm currently a year into my learning journey and have been constantly learning real-life application of my technical skills in my current job at Slalom_build Manchester.
How is it to find a job in tech?
I was very fortunate to have had a sponsored place on the Code First Girls bootcamp to have a role with my sponsor, Slalom_build Manchester after I finished my Course. However, in the UK, there are quite a few opportunities to do Apprenticeships, Sponsored roles or general job searching to find entry level developer roles.
I won't lie and say it's easy, as I have friends who have had to do many applications and interviews to land their first role. However, once you get your first role, it becomes much easier to find other roles and develop in your current workplace too. The recruitment and interview process varies from each company, but it's likely you'll have to do a take-home assignment and explain your solutions/code to your interviewer. You may have to explain why you've done it in certain ways and touch upon if there's better approaches.
The other focus in job finding is that you'll be asked on how you work in a team and approach problems/conflict. This is so important if you're aiming to work in tech as a Project Manager, Developer or other technical roles as projects are always a group effort. Within my own Code First Girls interviews, the focus was very much on my professional and team-working experience as they knew the bootcamp will further brush up on my technical skills.
Have you experienced imposter syndrome? If yes, could you tell us a little about it?
Imposter Syndrome is a very constant feeling even before I started my tech job. I think everyone has a form of imposter syndrome and will often mask it in the workplace. But I do think that since working in tech, the feelings of imposter syndrome has increased a lot as my own role is dependent on *how* much I know and can apply to projects. When you've recently switched into a new industry, it's often that you'll come across a huge learning curve and will be playing catch up. It was very frequent that I'd be comparing myself to Engineers who have been working in the field for 10-20+ years, whereas I've only realistically been working as an Engineer for 3 months now. I used to let the imposter syndrome eat me up and I'd often become very depressed about it.
However, a key tip given to me by a colleague is that I should be comparing myself to my past self rather than others. A year ago I was barely understanding HTML and building static websites, but now a year later I'm able to test complex Lambda functions as part of a Serverless AWS API. Even when I say that out-loud, I still can't believe that the jump in my technical ability has been so big in just a year.
The key thing with being an Engineer is that you're only in competition with one person, and that is *yourself*. Rather than looking around or above you, I would recommend to look behind at your past self instead. Document the projects you've worked on, make lists of all the work compliments given to you in meetings or projects, and you'll find that over time, your technical ability has expanded greatly.
How do you feel about being a minority in tech as a female? Have you had any uncomfortable situations to share? Or a funny situation?
At my current workplace, I feel like there's a substantial amount of minority representation and support for women of colour. They often give the space for minority groups to celebrate and educate their peers on their respective traditions and holidays. As an example, in Slalom_build UK, we had a huge Diwali celebration where we had henna stalls, amazing food and dance demonstrations. There is a huge focus on uplifting people of colour and we have dedicated support networks and events for women and women of colour.
However, I do know women of colour at other companies have faced micro-aggression and even been tasked with admin work even though it isn't part of their *Engineering Role*. Some have had to plan parties, take notes and have been talked down upon at their workplaces. Although these may be rare instances, it's important to note that it's important to speak up and to create a community of women and women of colour to share those experiences with. I'm fortunate that Code First Girls have created a community of women who share their experiences and provide support for one another for this.
What do you like about your job?
Honestly, the people in my workplace are amazing. The amount of patience, support and care they've put into helping me has been so impactful. Even from when I was studying how to be a full-stack Engineer with Code First Girls, people at Slalom_build checked ins with me weekly and had drop-in sessions at their office to help me with understanding fundamentals. At my job now, we have regular events we plan together and have opportunities to bond and really grow together as a team.
The other part to this is that my workplace focus on impactful and meaningful work. Whenever I'm working on a project, it's always helping a business transform itself with the latest stacks and meaningful technologies. That feeling of fulfilment and connection has what made me love working at Slalom_build.
Are you happy with your career choice?
100%.
I used to mourn the fact I couldn't do a PhD, but I think working in tech has shown me I still have opportunities to grow and change. You meet so many people who have not had degrees, high school education or switched from a 20+ career to work in tech. If that's taught me anything, it's the fact that you're not limited by your once choice for the rest of your life.
I'm only in my early 20s and I still have time to change and even go back to doing a PhD if I want to. Working in tech has taught me that you should never stop growing and learning, even as a full-grown adult.
How do you expect to grow in the future?
My focus right now is on giving back and supporting women, and women of colour, on getting into tech. Even though my workplace has amazing representation, there's still lots of places where there are either no or only one woman in their tech workplaces. I want to cost on promoting the importance of digital skilling to women who want to go into technical/non-technical roles and supporting them with opportunities such as Code First Girls.
As a woman of colour, I know we sometimes get as much support in career changing or taking on a more technical role. I want to create a platform and voice for those who want to pivot into tech and to become digital leaders.
What would you say to a girl/woman who wants to start a career in tech?
Be kind to yourself. Going into tech is not a competition as there's so many women who are also going through the same thing. The only competition is between you and your past self, so focus on growing and building your connections through your journey.
I'd say to find a huge community of women to work with. There's a lot of organisations out there like Code First Girls, SheCodes, Girl in Tech, Women Who Code, Girls Who Code, Stemettes, and so much more. If you're able to find people to check-in with and to even work on a project together, it'll help your growth and development ten-fold as tech isn't just about your technical ability but also your inter-personal skills.
If you want to follow Mariam here is her LinkedIn and tiktok :
If you also want to share your experience as a female student or professional in tech, don't hesitate to fill in the form linked below. It is a great chance to be featured in our next interviews posts and inspire other girls and women to join us.
Tools I use for this site
I buy all my domain names on  Namecheap, as thetrendycoder.com
The hosting of this website is made on Bluehost.
The website is created with WordPress.org (and not WordPress.com).
I use the page builder Elementor because it makes it easy to create modern pages with drag and drop.
I have multiple websites, and on most of them, I use themes from wpKoi. I love their design, they are very original and work well with Elementor.
All the designs and images are created using canvas.
I use Grammarly and languagetool to correct all my spelling and grammar mistakes.
SEO is a big thing on a website, I use a WordPress plugin called YoastSEO to help me with the basic analysis. I also use a tool called Keysearch for choosing the right keywords.
To handle affiliate links, I use two platforms: impact and ShareASale.
You want to write on TheTrendyCoder ?
If you are interested in publishing guest articles on this website, sharing your experience or coding tutorials, apply through this form.
NO EXPERIENCE needed!
NO PERFECT English needed!
NO DEGREE needed!
NO AGE limits!

No matter at what stage we are in our tech journey, we all have learned things and experienced things. Sharing them can help others and even help us. So, if you are a student, a professional, or a self-taught coder, feel at home and share some of your knowledge with the community.