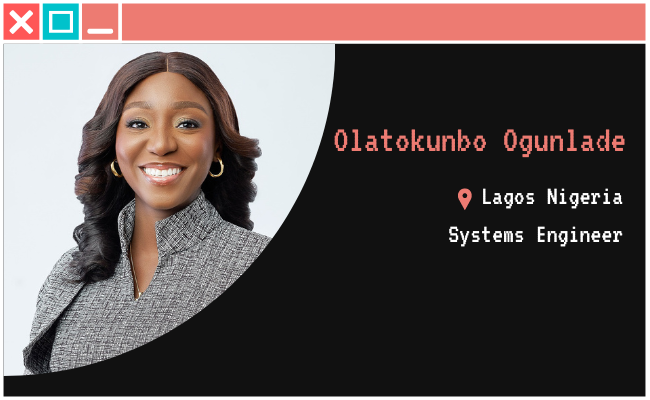 This edition of women in tech series features Olatokunbo Ogunlade. She is a self-taught System engineer from Lagos Nigeria since 2019. Her story is very inspiring, I can't wait for you to read it.
Olatokunbo gives me some hope, brilliantly transitioning from the role of Front-end engineer to Cloud engineer. Being a Front-end developer myself, I feel that everything back-end related or cloud is very hard to understand. The moral: everything is possible when you put your head into it. It doesn't matter your age, your gender, your background, your origins, or where you live… You can do everything and be anyone you dream of.
Could you start with a small presentation, so we can get to know you better?
I am Olatokunbo Ogunlade from Lagos Nigeria. I work as a Systems Engineer at Factorial HR, where I deploy, secure and support cloud infrastructure solutions to meet application developer requirements. I am also the founder of The Coding Mum, a community that supports mothers to break into theTech market.
I am a graduate of Computer Science from the Olabisi Onabanjo University,Nigeria.
I started my Software Engineering journey in 2018 as an intern after transitioning from being a Stay-at-home Mum.
By 2019, became a Front end Engineer and Later transitioned into Cloud Engineering.
I am committed to creating a coding culture that seeks to increase women and children participation. For fun ,I love to dance!
What motivated you to work in a tech field?
Financial freedom was what motivated me to start a career in Tech.
How did you learn your technical skills? (self-taught, college, bootcamp...)
I learnt on codecademy.com
How is it to find a job in tech?
The most important thing about getting a job in tech is to build projects and being visible.
Have you experienced imposter syndrome? If yes, could you tell us a little about it?
A lot! I felt like i was too old to belong in Tech. I then realised that age had nothing to do with the value I had and how valuable was to any team.
How do you feel about being a minority in tech as a female? Have you had any uncomfortable situations to share? Or a funny situation?
It truly can be lonely being the "only one in the room". There was a time that I was in a Sprint planning session as a front-end engineer, and a senior engineer from another team (that didn't know me) asked me why I wasn't taking the minutes of the meeting! He assumed that since I was the only lady in the room, I must be the Engineering Director's assistant!
What do you like about your job?
I love the freedom I have to create! I also love the financial freedom I also have.
Are you happy with your career choice?
How do you expect to grow in the future?
Learning new Technologies and embracing bigger challenges!
What would you say to a girl/woman who wants to start a career in tech?
Every woman/girl deserves a spot in Tech!
If you want to follow Olatokunbo here is her LinkedIn:
If you also want to share your experience as a female student or professional in tech, don't hesitate to fill in the form linked below. It is a great chance to be featured in our next interviews posts and inspire other girls and women to join us.
Tools I use for this site
I buy all my domain names on  Namecheap, as thetrendycoder.com
The hosting of this website is made on Bluehost.
The website is created with WordPress.org (and not WordPress.com).
I use the page builder Elementor because it makes it easy to create modern pages with drag and drop.
I have multiple websites, and on most of them, I use themes from wpKoi. I love their design, they are very original and work well with Elementor.
All the designs and images are created using canvas.
I use Grammarly and languagetool to correct all my spelling and grammar mistakes.
SEO is a big thing on a website, I use a WordPress plugin called YoastSEO to help me with the basic analysis. I also use a tool called Keysearch for choosing the right keywords.
To handle affiliate links, I use two platforms: impact and ShareASale.
You want to write on TheTrendyCoder ?
If you are interested in publishing guest articles on this website, sharing your experience or coding tutorials, apply through this form.
NO EXPERIENCE needed!
NO PERFECT English needed!
NO DEGREE needed!
NO AGE limits!

No matter at what stage we are in our tech journey, we all have learned things and experienced things. Sharing them can help others and even help us. So, if you are a student, a professional, or a self-taught coder, feel at home and share some of your knowledge with the community.