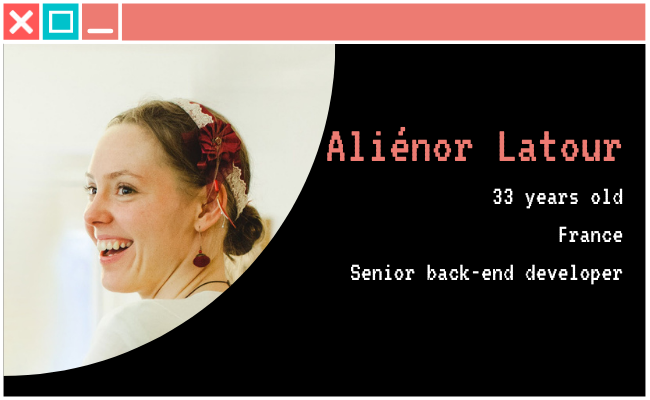 Aliénor is a French senior beck-end developer with an amazing career! I'm impressed by how rich her experience is in only 10 years. On top of that, she is a backend developer! As a frontend developer, I find backend very very very difficult and even scary, so every person who is able to handle it gain my full respect!
I love the way she talks about imposter syndrome, you should definitely read more about her experience.
Could you start by a small presentation so we can get to know you better?
Aliénor, 33, France
I'm a senior back-end developer working with Go on cloud services. I have worked in web marketing and communication, satellite imagery processing, and now meal-kit boxes delivery. In less than 10 years I have been a full-stack developer, a cloud software architect, a back-end dev, dabbled in devops, administration and social media content management. I'm also a mother, a dancer, I sew, knit and doodle.
What motivated you to work in a STEM field?
I was supposed to become a professional musician, but somehow found a backup in computing, and I thoroughly enjoy the number of different things that can be done with code.
How is it to find a job?
It is harder to not find a job than to find one once you have a LinkedIn profile with "backend" written on it, as recruiters are hard on your trail.
Have you experienced imposter syndrome? If yes, could you tell us a little about it?
I don't feel like a fraud, I tend to feel like a shy beginner who always needs to prove everything she says with concrete sources from the web. Note that the guys who published the sources have probably less experience than I do.
So it's more about feeling legitimate.
How do you feel about being a minority in STEM as a female? Have you had any uncomfortable situations to share? Or a funny situation?
My first week at one job ended with a demo to the client, via a video call. 3 clients, men. 14 people on our side, of which 13 were men. A dick joke. The client laughs. Perfectly normal.
That same person had rejoiced to finally have a secretary, as a welcome (I was his direct colleague), and asked if I could make coffee.
The list is long.
What do you like about your job?
I like having a job that is creative, uses most of my brain resources (that changes from school!), pushes me to learn new things every day, and lets me explore. No repetition. It is possible to get bored, but it is easy to do something about it.
Are you happy with your career choice?
Definitely.
How do you expect to grow in the future?
I want to become a team leader again, but not a manager, as I want to become a technical expert too. We'll see.
What would you say to a girl/woman who wants to start a career in STEM?
Go for it. It's the best thing you can do for yourself and for the world. And whenever the mood is not comfortable, either change the way people interact or leave. You don't have to suffer the locker room talk.
If you want to follow Aliénor here is her LinkedIn :
---
If you also want to share your experience as a female student or professional in tech, don't hesitate to fill in the form linked below. It is a great chance to be featured in our next interviews posts and inspire other girls and women to join us.